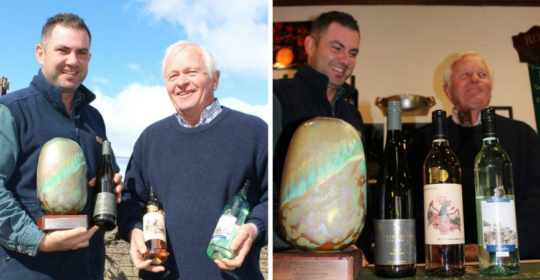 THE verdict is in and Mudgee region wines have been a stand out at the NSW Small Winemakers Wine Show in Forbes.
The judges spent two and a half days, at the end of August, considering more than 500 wines from 89 small wineries across New South Wales and ACT.
The best red was judged to be the 2016 Ballinaclash Edward Shiraz from the Young region, Coolangatta Estate's 2009 Semillon from Shoalhaven was awarded best white.
The finest boutique wines – from wine producers that crush under 200 tonnes a year – were Mudgee's 2017 Burrundulla Tempranillo Rosé and Hart & Hunter's 2015 The Remport Semillon from the Hunter Valley.
Ted Cox, winegrower at Burrundulla Wines, described the win as "very exciting".
"I've been wanting to make a savery, dry Tempranillo Rosé for a little while now and this year we had the opportunity," he said.
Robert Stein's chief winemaker Jacob Stein and winemaker Lisa Bray created the 2017 Rosé from Burrundulla grapes.
"Jacob did a great job with the grapes we provided," Mr Cox said.
"The thing about Mudgee is the diverse group of winemakers and we all pull together and it's terrific support."
Robert Stein's 2017 Dry Riesling, which was released to the public on September 1, was judged the best Riesling of the Show. The win follows the success at the 2017 Cowra Wine Show where it was also awarded Best Riesling.
Jacob Stein was also on the judging panel, however he was omitted from judging the Riesling class.
"The 2017 Rieslings are the best we've ever made," said Jacob. "The vintage was fantastic for Riesling in Mudgee and, combining with our 40 year old vines, the wines are just getting better and better."
223 medals were awarded, 142 of those bronze, 55 silver and 26 gold.
The Mudgee region took home 16 awards:
Riesling – Any Vintage
Moothi Estate 2017 Riesling – Bronze
Robert Stein Winery 2017 Dry Riesling – Top Gold
Robert Stein Winery 2017 Reserve Riesling – Silver
Pinot Gris / Pinot Grigio – Any Vintage
1838 Wines 2017 Premium Pinot Gris – Silver
First Ridge Wines 2017 Pinot Grigio – Bronze
Semillon – 2017 Vintage
Burrundulla Wines 2017 Semillon – Silver
Chardonnay – 2016 Vintage
Huntington Estate 2016 Barrel Fermented Chardonnay – Silver
Other Varieties – Any Vintage
First Ridge Wines 2017 Fiano – Bronze
Moothi Estate 2016 Viognier – Bronze
Off Dry to Semi Sweet. Any Variety – Any Vintage
Robert Stein Winery 2017 Half Dry Riesling – Bronze
Light Red or Rosé Table Wine – 2017 or 2016 Vintage 
Burrundulla Wines 2017 Rosé Tempranillo – Top Award
Walter Wines 2017 Federation Hill Rosé Shiraz – Bronze
Merlot – Any Vintage
Robert Stein Winery 2016 Merlot – Bronze
Shiraz – 2015 Vintage
Robert Stein Winery 2015 Reserve Shiraz – Bronze
Robert Stein Winery 2015 Shiraz – Silver
Shiraz – 2014 Vintage or older
Huntington Estate 2014 Special Reserve Shiraz – Silver
President of the Show committee, Mark Watts, said "what you can see is a mix – it proves that good wines are being produced across the whole of the state."
"The judges, who are directly in the wine industry, commented on the quality of wine entries," Mr Watts said.
The NSW Small Winemakers Wine Show has been running since 1992 with the objective of providing a stage for smaller winemakers within NSW.
The 46th Mudgee Wine Show will be held from September 7, with entries from local producers who utilise fruit from within the Central Ranges zone that encompasses Cowra, Orange and Mudgee.
Judging will take place from September 12 to 14 with the results released on September 15 at the Wine Show Trophy Dinner at Craigmoor Pavillion.
The public will be able to taste the wine entries at the Go Tasting event on September 16 at The Stables.
Source: Honor Elliott, Mudgee Guardian, 5 Sep 2017
Link: http://www.mudgeeguardian.com.au/story/4903709/stop-and-smell-the-mudgee-region-rose-riesling/
Leave a reply →